As much as mountain climbing seems sexy and full of danger, the reality is, watching the sport is kind of boring. Watching someone slowly take step after painstaking step up a glacier is about as exciting
 as watching someone meditate. That's why there aren't many good Hollywood movies about mountaineering: the drama is all interior. How do you effectively portray a mental struggle on a movie screen?
So Hollywood is forced to gussy up climbing movies with explosions, espionage, sex, murder and explosions. The realities of the sport are abandoned in favor cinematic gloss.
A climbing movie true to the sport would be quiet and meditative. Most climbing movies fail at being action movies, because they're too boring, when they should aspire to be boring dramas, punctuated by bursts of excitement.
Vertical Limit (2000)
Vertical Limit is case in point. For Hollywood, climbing to the top of K2, the world's second tallest peak and one of the most technically challenging, isn't enough. There also needs to be unstable nitro glycerin, sociopathic bad guys and lots of explosions.
In one of the film's greatest scenes, the film's star Chris O'Donnell runs at full speed at over 20,000 feet without oxygen, leaps across a yawning chasm and sticks to a wall of ice with his ice tools. It's a coup for climbing inaccuracy. First: running at Himalayan altitude is not possible, when simply slow walking leaves you sucking at the thin air. Second: running with crampons would be very difficult. Third: if someone could stick that landing, that would be badass.
Check out this Youtube video, The Vertical Limit Guide to Climbing. It teaches you the basics of climbing by telling you what not to do with clips from the movie.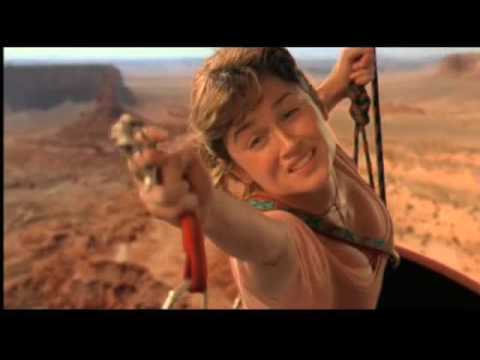 The Eiger Sanction (1975)
1970s Clint Eastwood climbing mountains in the Alps. What more could you want from a movie? Well, in addition to climbing excitement, there's a crazy plot involving assassination and albino Nazis. Eastwood (who also directed the film) plays Hemlock, a former government assassin and experienced mountaineer. He uses his assassination money to purchase expensive art. He's roped (pun alert!) back in for one last job, as assassins often are in movies, by a character crazier than the worst James Bond villain: Dragon, a former Nazi running a US spy agency who gives out assignments in a darkened room because his creepily illuminated eyes are sensitive to light.
As hilarious as the film's plot is, the film's production has a tragic history. Eastwood insisted that the film be shot on location in the Alps, which was deemed an unnecessary danger by the film's climbing advisers. This poor choice led to the death of a climber on the crew, who was struck by a falling boulder while on the mountain. Many more were injured.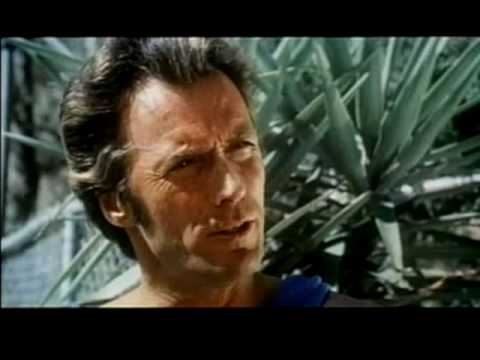 Cliffhanger (1993)
Like The Eiger Sanction, Cliffhanger takes one of the silver screen's best tough guys and makes him look silly by putting him on a mountain. In this case, Sylvester Stallone is Gabe Walker (which sounds like the name of an action movie character), a mountain guide in Colorado. A bunch of money is lost in the mountains, and the bad guys need experienced mountaineers to retrieve it for them. But they get more than they bargained for with Stallone.
As improbable as it seems, the film's plot was partially inspired by a true piece of rock climbing lore. In 1977, a plane transporting a large load of Marijuana crashed into a lake in Yosemite National Park. The climbing bums in Yosemite Valley were some of the only people to know about the crash and to make the strenuous hike to the lake. The Yosemite Gold Rush, as it came to be called, resulted in many rich climbing bums.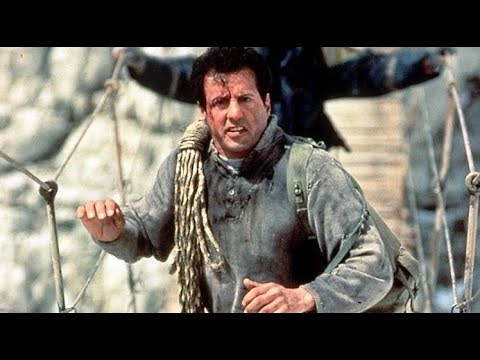 Star Trek V: The Final Frontier (1989)
Wherein the Captain climbs the Captain. James Tiberierus Kirk climbing Yosemite Valley's El Capitan, that 4,000 foot granite wall of climbing terror, without a rope. Not even the best climbers in the world can do this. Where does Kirk find the time to train (maybe the Enterprise has a climbing gym)? Spock asks him why he's doing this, and Kirk responds by aping George Mallory: "Because it's there."
The most accurate part of this sequence is when the novice climber falls – thankfully, Spock is there catch him, wearing rocket boots.
The following clip is William Shatner, the actor who plays Kirk, explaining why people climb. It's perhaps the most absurd thing to come out of a mouth that frequently spouts absurdities. "The mountain is climbed, because the climber wants to hug the mountain… He wants to make love to the mountain." Or maybe this is the most accurate statement ever made about climbing. I'm not sure.