Tree wells—deep pockets of soft snow that form at the base of tree trunks—are one of the most dangerous aspects of backcountry skiing, and are the leading cause of non-avalanche-related snow immersion deaths (NARSID). Over the last 20 years, tree well immersion has claimed the lives of more than 70 skiers and snowboarders; sadly, each fatality was completely preventable. Here are a few tips to help you avoid tree wells and stay safe in the backcountry.
Tip #1: Check the weather report
Tree wells are formed when trees with wide, low-hanging branches prevent snow from consolidating around the base of the trunk. As a result, tree wells are often difficult to discern from the compacted snow that builds up between trees. For this reason, most documented NARSID incidents occur after heavy snowfall, when tree height is tougher to determine with the naked eye. As tempting as it may be to ride fresh backcountry powder, you may want to avoid unmarked runs (and ungroomed edges of established trails) if significant snowfall has accumulated during the previous 24 hours.
Tip #2: Travel with at least one buddy
If you insist on visiting the backcountry after fresh snowfall, then you should do so with at least one other adult who is strong enough to extract you from a tree well. Visible contact is crucial; individuals who fall into a tree well can die from asphyxiation within minutes. If your partner falls into a tree well, do not leave them to seek help. In most cases, the victim will be buried headfirst; determine the location of your partner's head, tunnel in to create an airway that allows them to breathe, and make sure there isn't any snow in their mouth.
Tip #3: Don't panic
Worst-case scenario: you've stumbled into a tree well headfirst and your partner isn't there to dig you out in a timely manner. Experts say the most important thing to do in this situation is remain calm; if you struggle, the depression will deepen and you will likely sink further into the snow. Create breathing space between your face and the snow, and then rock back and forth to widen the space. Take short, intermittent breaths to conserve oxygen and, if possible, place a call for help on your cell phone.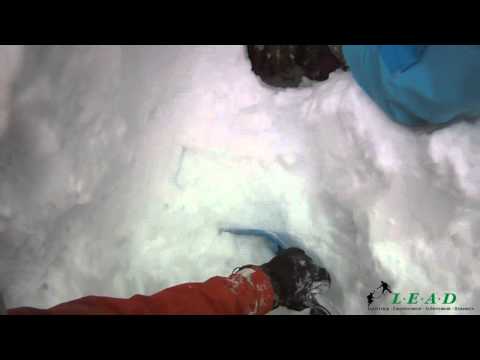 Tip #4: Carry the proper equipment
The following tools greatly reduce the risk of death if you or your partner happen to fall into a tree well.
Whistle: Keep a whistle handy just in case you fall into a tree well and your partner did not see you fall. Remember: the closer it is to your mouth, the easier it will be to access if you fall headfirst into the soft snow.
Shovel: Digging a proper tunnel by hand is nearly impossible. For this reason, everyone in your party should carry a snowshovel when riding in the backcountry.
Avalanche Beacon: In the majority of tree well accidents, the victim is at least partially visible, but sometimes the well is so deep that he/she cannot be seen. An avalanche beacon will help rescue crews locate the victim in either case (especially the latter).
Avalanche Probe: This tool can effectively locate someone who is completely immersed in the snow. However, it is somewhat useless if the members of their party do not know exact location of the crash site. But if no other options are available, probing all the tree wells in the general area may be the victim's only hope.
RECCO Reflector: This item can be tracked using a RECCO device, which is carried by most ski patrol members in case of such emergencies. If your partner goes into a tree well and you know he or she is carrying a RECCO reflector, be sure to let rescue services know if and when you need to contact them.
AvaLung: One of the most innovative snow rescue tools on the market, the AvaLung is a breathing apparatus that draws oxygen directly from the snowpack. While the device will not afford long-term survival, proper use can enable the individual to breathe with relative ease for more than an hour. In January 2011, backcountry skier Peter Lev survived a near-fatal tree well accident thanks to his AvaLung. Most of these devices cost less than $150.
Tip #5: Understand that ability is irrelevant
This won't happen to me because I'm an expert, you might say. But please note that more than 80 percent of fatalities related to snow immersion involved advanced skiers/snowboarders, many of whom had extensive backcountry experience. Tree well accidents can happen to anyone, in the backcountry or on groomed trails. Thankfully, you can mitigate much of the risk by acknowledging risky weather conditions, traveling with at least one partner and remaining in constant visual contact with them, equipping yourself with the proper gear and remaining calm if you do fall into a tree well.