Mark your calendars and set your DVR – the U.S. Winter X Games are almost here. This year's four-day Aspen event will kick off Thursday, Jan. 24, and some of the participants have already garnered a fair deal of buzz. Here are some of the athletes to watch during this year's WXG Aspen festivities.
Ski Big Air
All eyes are on Bobby Brown this year; he nabbed a Gold in the Big Air contest two of the last three years (including 2012), and was the first skier to earn top honors in two X Games events in the same year. Last year's respective Silver and Bronze recipients, Switzerland's Kai Mahler (who made his X Games debut last year at the age of 16) and New Zealand's Jossi Wells (who has earned medals in all three skiing events), will do their best to claim the Gold in 2013. But with this year's roster, the top prize could easily go to a dark horse contender like Australia's Russ Henshaw, the first WXG contestant to land a triple cork during the competition, or Switzerland's Elias Ambühl, who won three big air comps in 2011 with his signature 1440 mute grab. And the three other Americans – Tom Wallisch, Alex Schlopy, and Gus Kenworthy – are all coming off strong performances last year. If we're going by momentum, the contest is Brown's to lose – but this is definitely anybody's race.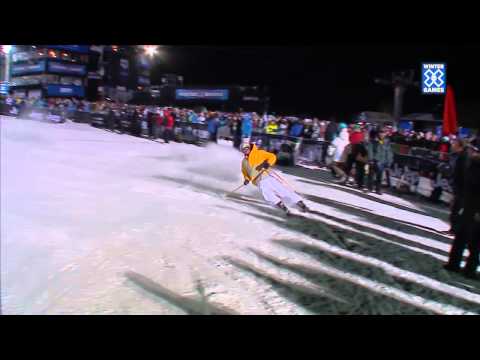 Ski Slopestyle (Women's)
Canadian gals fill out half of the four-person roster for this year's Women Slopestyle event. Montreal native Kaya Turski is arguably the strongest contender in the group; she's earned Gold at the last three events and the last three Winter X Games Europe competitions, and is generally considered one of the most dominant female skiers in the world. Dara Howell, the other Canuck on the roster, is also impressive – but she's a relative newbie; she made her X Games debut last year and, at 18, is the youngest competitor (though she notably earned a Bronze in last year's X Games Europe event in Tignes, France). Austria's Anna Segal won the inaugural Women's Slopestyle event in 2009 and, despite a broken thumb, earned a Bronze and Silver at the 2012 Aspen and Tignes competitions, respectively. And lone American Keri Herman, skilled as she is, failed to make the podium at either of last year's Slopestyle events. Look for Turski to notch a four-peat this year – hardly suspenseful, but man is she fun to watch.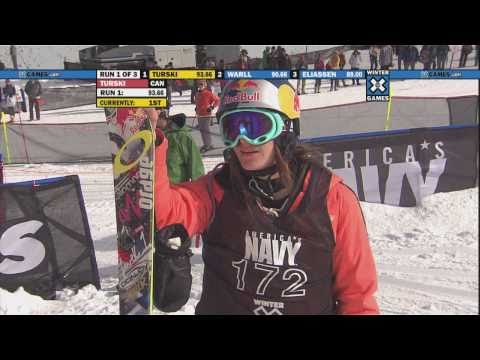 Ski Slopestyle (Men's)
Five Big Air contestants – Brown, Wallisch, Kenworthy, Henshaw and Sweden's Henrik Harlaut – will take part in the Men's Slopestyle comp along with eight other competitors. Wallisch and fellow American Nick Goepper respectively took Gold and Silver last year, so look for them to shine once again. But the Bronze recipient at both 2012 X Games slopestyle events, Norway's Andreas Håtveit, is a five-time WXG medal-winner who is a force to be reckoned with on both rails and jumps – and no doubt he's hungry after last year's third-place finishes. Other strong contenders include: Brown, who, despite a paltry seventh place finish at the 2012 event, notched a Gold during last year's Tignes comp; England's James Woods, this year's only British contestant in any event, who earned the Bronze in 2011 and placed fourth in Tignes last year; and USA's Sammy Carlson, a five-time medal winner who took the Gold during the 2011 competition. Odds favor Wallisch, the 2012 champion who also placed second at Tignes last year, but this event is known for its inconsistency from year-to-year.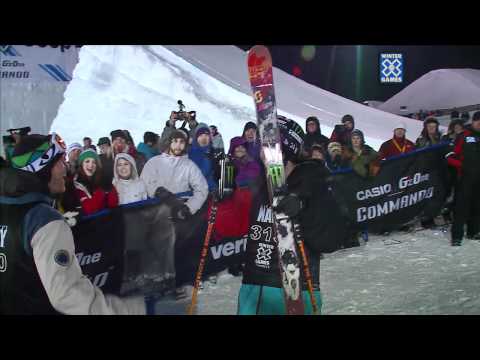 Ski SuperPipe (Women's)
Last year's Women's SuperPipe competition was marred by tragedy; just one week before the 2012 X Games began, four-time SuperPipe Gold medalist Sarah Burke suffered a fatal concussion while training for the 2014 Winter Olympics. When fellow Canadian Roz Groenewoud took first place at both Aspen and Tignes, many saw it as a fitting tribute to her fallen comrade. But in the process, Groenewoud established herself as a highly skilled competitor; she reached a height of 14.5 feet during her final run and went on to earn a score of 93.66 – the highest ever recorded by a woman in this event. Her competition this year includes last year's respective Silver and Bronze winners, Maddie Bowman and Brita Sigourney (both USA), as well as two ladies who competed in 2012 but failed to make the podium: France's Anais Cardeaux (4th) and Canada's Megan Dunning (8th). It's a stellar line-up, but Groenewoud's dual 2012 performances can't be ignored going into this year's event. It also bears mention that, at 5-feet 10-inches, she is the tallest woman to take home the Gold in this competition.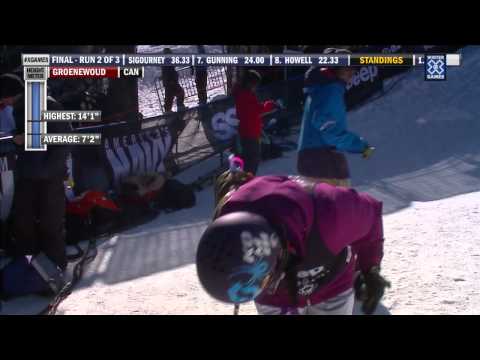 Ski SuperPipe (Men's)
Two Americans earned Gold in last year's Men's SuperPipe events; David Wise took the trophy in Aspen, and Torin Yater-Wallace won first place in Tignes (interestingly, each man also earned a Bronze in the opposite event). They're both back this year, as are the 2012 Silver winners, USA's Noah Bowman (Aspen) and France's Thomas Krief (Tignes). Other strong contenders include France's Kevin Rolland, who placed fourth last year in Aspen; Canada's Justin Dorey, who placed fourth last year in Tignes; and USA's Tucker Perkins, who placed fifth in Aspen and is a member of the USA Freeskiing Team. And while Gus Kenworthy is hardly the favorite (especially after his abysmal performance in Aspen last year), wouldn't it be sweet if he took Gold (or at least won medals) in all three skiing events? Many favor Yater-Wallace, who, at 15, became the youngest WXG medalist in Men's SuperPipe history when he earned the Silver in 2011, and has since won three more medals. The word 'prodigy' comes to mind here.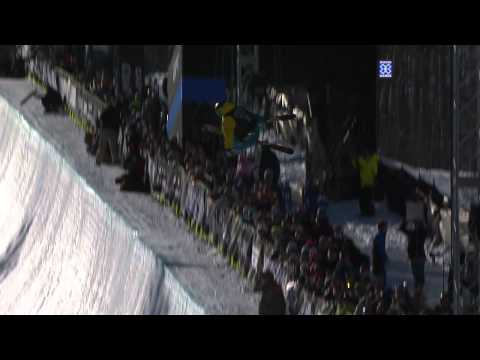 Snowboard SuperPipe (Men's)
Sixteen guys will be competing in this year's Snowboard SuperPipe event; or, more accurately, 15 guys will attempt to dethrone Shaun White. The Flying Tomato has won more WXG medals than anyone else in history (17). He's nabbed the Gold in this category for five consecutive years in Aspen, topped off by a perfect score in 2012; he also notched an impressive first place finish at last year's Tignes event, earning a score of 98. White's challengers include eight American riders, but it's likelier that a foreign participant will snatch the crown – perhaps Switzerland's Iouri Podladtchikov or Japan's Ryo Aono, who respectively picked up Silver and Bronze last year. But let's not kid ourselves: White is the heavy favorite going into this year's comp.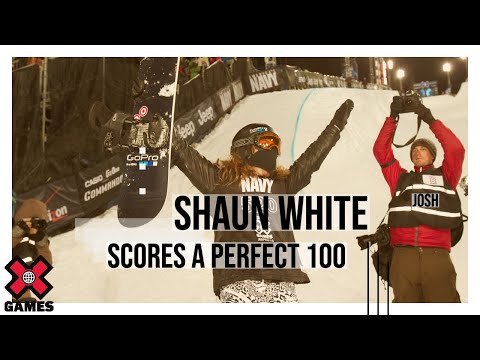 Snowboard SuperPipe (Women's)
Just as Shaun White has dominated the Men's SuperPipe comps in recent years, USA's Kelly Clark has reigned over the Women's SuperPipe. She's earned nine X Games medals in this category, more than any other female rider, and took home the Gold at Aspen and Tignes last year. In 2011, she became the first female to land a 1080 during a competition. Her worthiest opponent is probably fellow American Elena Hight, who earned Silver in both of last year's WXG comps; notably, she also took first prize over Clark at last year's Burton U.S. Open. Another participant to watch is Gretchen Bleiler, who, like Clark, has won four Gold medals in the Women's SuperPipe category – though her last win came in 2010. Also keep an eye on the last year's Bronze recipients, Hannah Teter and Kaitlyn Farrington (both USA). But ultimately, this race comes down to the veteran (Clark, 29) and the young up-and-comer (Hight, 23).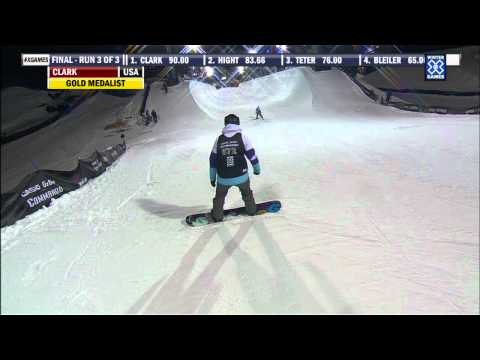 Snowboard Slopestyle (Men's)
Not surprisingly, Shaun White is the front-runner for this comp; he earned a Gold at last year's Tignes event, and has earned an additional eight Slopestyle medals (including five Gold) in Aspen throughout the course of his career. However, he did not compete in Aspen last year due to an ankle injury. The top prize went to Mark McMorris, a young Canadian hotshot who also earned the Silver medal at the 2012 Tignes event. The dark horse candidate for this comp is USA's Eric Willett, who has earned a few medals in Aspen and Europe since he debuted in 2009, including a Bronze at Tignes last year. He's got plenty of double corks and grind skills in his arsenal, and many feel he's due for a breakout year. Another one to watch is Sage Kotsenburg, who placed second in Aspen in 2012 and became the first person to land a Cab-double cork 1440 at the Air & Style contest in Austria the previous year. The bottom line: this year's roster is filled with talent, but White is (still) the surest bet.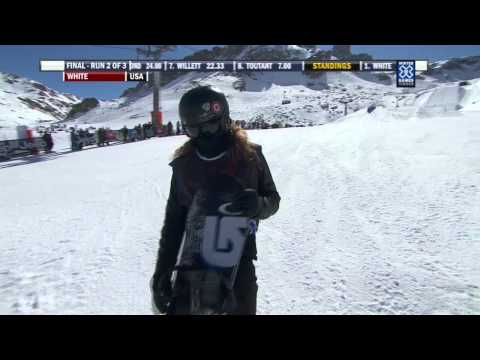 Snowboard Slopestyle (Women's)
Jamie Anderson took home the Gold at both 2012 Women's Slopestyle events; her win at Aspen was particularly noteworthy, as she bested Silver medal winner Enni Rukajarvi of Finland by more than 12 points. This year, Anderson – the comp's sole American participant – takes on previous Slopestyle medalists like Canada's Spencer O'Brien (Silver at 2012 Tignes) and Norway's Kjersti Oestgaard Buaas (Bronze at 2012 Aspen). Ireland's Aimee Fuller is definitely one to watch; in the past, she's pulled off maneuvers like the Cab 540 and backside 720, and she took second place at the Roxy Snow Pro event last February. Another potential upset could come from Norway's Sina Candrian, who took second place at last year's Burton Canadian Open. But as the only participant to previously earn a Gold medal in this event, Anderson has a definitive edge over her competitors.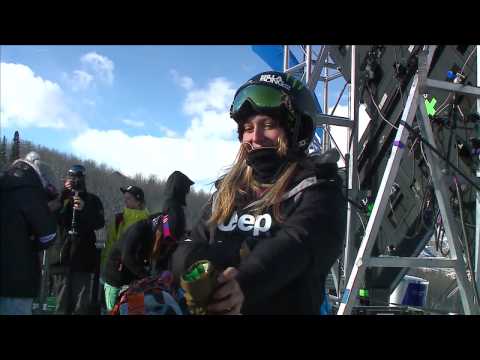 Snowboard Big Air
Last year's Big Air comp yielded some interesting results. Mark McMorris took home the Gold medal, but he did so with a relatively low score of 80 despite a near-perfect score of 49 on his first run. The Silver medalist, Norway's Torstein Horgmo, earned a perfect score on his first run but failed to earn more than 26 points on any of his three subsequent runs. And while Sebastian Toutant of Canada also earned a total of 76 points, his individual run scores fell below Horgmo's and he ultimately took home the Bronze. This opens up the 2013 event for a potential upset; candidates include Norway's Ståle Sandbech, who recently landed a backside 1440 at the Beijing Air & Style event, or Israel's Halldor Helgason, who earned a Gold medal in the 2010 Aspen event. McMorris has the momentum from last year's win, but he's far from a sure bet in 2013.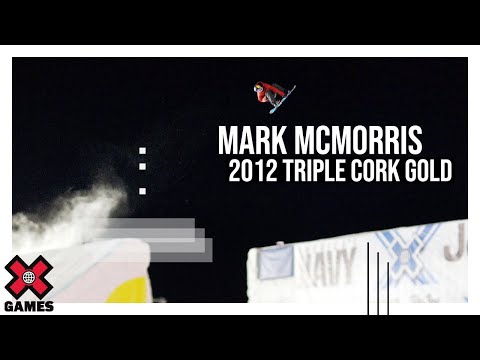 Snowboard Street
Here's a bold prediction: an American will take home the Gold in this event. OK, so it's not that audacious – the 7-man roster is entirely comprised of US riders. Last year's Gold medalist, Forest Bailey, was the only participant to notch two runs that exceeded 40 points. The 2012 Silver and Bronze earners, Ryan Paul and Nick Visconti, will also take part in this year's comp. The remaining four riders are X Games rookies, but considering the Street comp was only added to the X Games lineup two years ago, all of the 2013 participants are relatively green. It's hard to ignore Bailey's performance last year, though his 270 to frontside on a large metal cargo container was easily the highlight of the competition.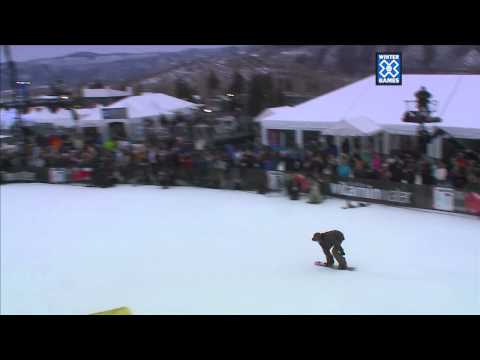 Snowmobile Freestyle
Last year's Freestyle comp literally pit brother against brother. Colten Moore picked up the Gold medal, while his older brother Caleb earned his third consecutive Bronze medal — talk about sibling rivalry! Both Moores are back this year, as is last year's Silver recipient and 2009 Gold winner, USA's Joe Parsons; the first place finisher in 2011, Sweden's Daniel Bodin; USA's Heath Frisby, who has picked up six WXG snowmobiling medals since he debuted in 2007; and USA's Justin Hoyer, who earned Gold in this category at the 2010 event. Rounding out the 7-man roster is Levi LaVallee, a three-time WXG Gold winner who became the first person to (unsuccessfully) attempt a double backflip on a snowmobile during the 2009 contest. This should make for a stiff competition for all involved — so the edge goes to Bodin, the only 2013 contestant to participate in the Freestyle comp every year since it was added six years ago.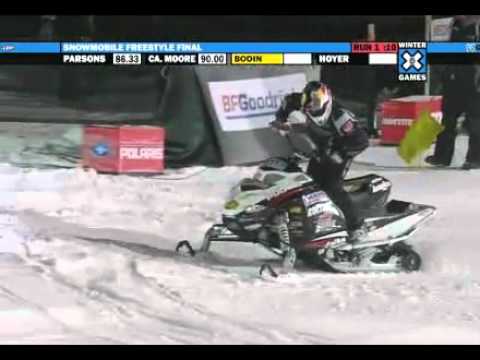 Snowmobile Best Trick
The rosters for this event and the Freestyle comp are nearly identical – Australia's Jackson Strong, better known for his skills on the motocross track, is the only Best Trick participant not competing in the latter. The leading candidate for 2013 Gold is arguably Heath Frisby, who annihilated the competition in last year's event with a finish that placed him seven points ahead of Silver winner Colten Moore. Like all trick-based comps, however, this one is tough to predict using previous results; the slightest mistake can lead to a disastrous finish. But Frisby has proven consistent from year-to-year; he also earned the top prize in 2010, and has seemingly mastered the tsunami backflip, one of the toughest snowmobile maneuvers. He could very easily notch a two-peat this year, though Daniel Bodin and Levi LaVallee — who both missed last year's comp due to injuries — are undoubtedly hungry for another WXG Gold medal.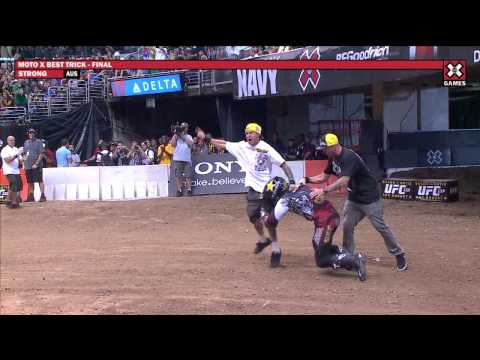 Snowmobile SnoCross
In 2011, officials announced that the Snocross, Adaptive Snocross and Speed & Style events would no longer be part of the X Games Aspen festivities – but thanks to an outpouring of opposition, these three comps will return in 2013. At 20 participants, this year boasts the event's longest roster – but one of them, USA's Tucker Hibbert, stands out among the rest. Prior to the one-year hiatus, Hibbert won five consecutive Gold medals, tying a record previously set by the legendary Blair Morgan. In order to break the record and further bolster his WXG mythos, the Minnesota native must first outperform some truly tough competition. 2011's respective Silver and Bronze winners, Ross Martin and Robbie Malinoski (both from the USA), will be competing, as will Kyle Pallin and Cody Thomsen, who placed fourth and sixth (respectively) that year. But barring any unforeseen developments, Hibbert will likely notch his place in X Games history this January.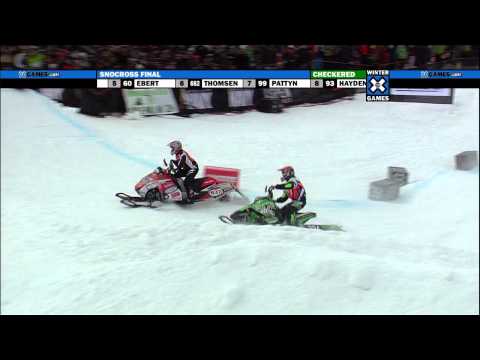 Snowmobile SnoCross Adaptive
At the 2011 event, Mike Schultz didn't just win the Gold – he beat Silver medalist Jeff Tweet by more than 40 seconds. Schultz will defend his title this year against seven challengers, including the 2011 third-place finisher Jim Wazny and three racers who failed to make the podium that year (Dave Turner, Doug Henry, and Chris Heppding). The most intriguing entry on the roster (and the only non-American) is Canada's Darryl Keith Tait, who was nearly paralyzed in a 2009 crash, but has since made a full recovery. Still, Schultz is seemingly unstoppable; he also earned a Gold in the inaugural Adaptive SnoCross event in 2010, which makes him not only a consecutive first-place finisher but also the only athlete to take the top prize in this event.
Snowmobile Speed & Style
Among the six entries in this year's Speed & Style comp, Joe Parsons is the clear favorite. He's gone home with the Gold medal in the last three contests. Among the competitors, he'll do battle with are Heath Frisby, who earned the Silver in 2011, Cory Davis, who placed third that same year, and Levi LaVallee, who won the Gold in 2008 and placed second the following year. One of the X Games' more interesting comps, Speed & Style combines racing and freestyle. Parsons has history on his side, but a slip-up in either speed or style on his part could lead to an upset.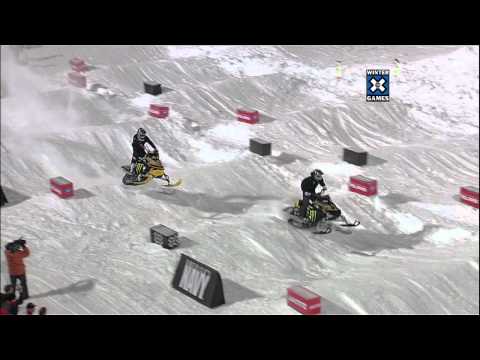 Best of luck to all of the 2013 Aspen participants!