On August 18, 2013 I set out to climb Mount Rainier with five other women who work at The Clymb. Our mission was philanthropic, part of Big City Mountaineers' Summit For Someone program, in which individuals ascend challenging mountains as a way to raise money to get under-resourced youth outdoors.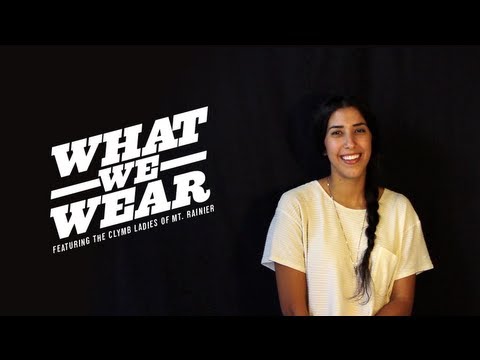 We put in the sweat on the mountain but now we need your help to reach our fundraising goal of $27,000. Shop any of the outfits we recommend in the What We Wear sale and The Clymb will donate a portion of the proceeds to our cause.
Check out my selections below then read on to learn a little more about me and see some images from our climb!
---
Quiksilver 5-panel cap
How quickly a bad hair day can turn around.
---
DAJO knife
This multi-tool is the best. I love the strike fire starter and find myself too often using the precision tweezers to snag a pesky sliver or out-of line brow hair.
---
BOGS boots
I love my leather boots, and I love not having soggy socks. These BOGS are comfortable and perfect in all ways for the Pacific Northwest downpours. A puddle-jumper never looked so good.
---
KEEN socks
The perfect fitting sock is a thing to be cherished. These cozy wool socks hug your foot in all the right places; that's what I'm talkin' bout.
---
lucy top
Cute simple and goes with whatever. For those mornings you can't decide what to wear, done and done.
---
lucy jacket
I'm really in love with this jacket. Lightweight, layer-able, flattering cut, great color, and pockets for loose change, or that multi tool.
---
prAna belt
This is how I keep my pants up day after day.
---
prAna swimsuit top
A bright top to mix and match with any bottom.
---
Black Diamond trekking poles
There were times I would scoff at people with their trekking poles. And then I had them while scrambling up some scree to the top of a mountain, and I'd now like to apologize; so thankful to Black Diamond for creating these.
---
ABOUT ME:
My favorite summit snack
Strawberry Pop-tart
The outdoor sport that best defines me
Hiking
My most memorable outdoor experience
Besides Rainier!? Center of a lake, lying on an inflatable mattress, stargazing with my family!
The piece of gear I can't live without
Multi-tool! It's good for both outdoor and day-to-day hurdles.
My style in three words
All. Over. D'place.
The first song on my adventure playlist
Jump into the Fire by Harry Nilsson
What inspired me to Summit for Someone
Big City Mountaineers is a brilliant non-profit that helps kids reach their potential while connecting with the great outdoors. The climb was also outside my comfort zone and I wanted to push myself to new heights (hah), and gain an experience of a lifetime.