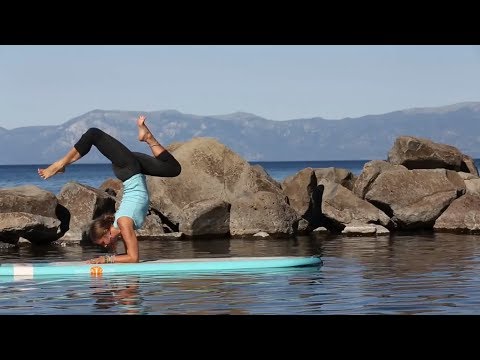 Yogis, start your engines.
A slew of North American cities are hosting their own iteration of the Wanderlust Yoga Festival — and many more cities will continue to host events into the winter season.
Touted as 'an adventure for the mind, body and soul', Wanderlust Yoga Festivals are a celebration of all things yoga, featuring classes for all shapes and sizes, celebrity yoga teachers, concerts, and speaker sessions. There's a lot to do at each festival—so much, in fact, that it can be hard to know where to start.
Whether you plan on hitting up Wanderlust Squaw Valley in California, Wanderlust Tremblant in Quebec, or Wanderlust Brooklyn in New York—or any of the other events—follow this guide to get started.
Try Something New
Wanderlust is the perfect environment to step out of your comfort zone. Take the opportunity to try something new—chances are, you won't be the only one testing it out for the first time. Seek out classes that aren't offered in your area—like aerial yoga or slack line yoga—and be humbled by the challenges that are presented.
Seek out Rising and Renowned Teachers
Eoin Finn. Seane Corn. Elena Brower. It seems a little odd to combine the words 'yoga' and 'celebrity', but there are definitely some well-known teachers in yoga culture, and each Wanderlust festival features a few big names. That said, keep your eye out for the rising stars, too. Lesser known teachers can offer incredible practices, often with smaller classes and more hands-on interaction. Start by checking out classes hosted by teachers who live in the host town—they're often the pick of the local crop!
Two Birds, One Stone

Wanderlust festivals all share one thing in common: they're held in spectacular locations. Make the most of your retreat by participating in outdoor classes and other activities—like hikes, bike rides, concerts and discussions—that will let you take in the surroundings.
Open Your Mind
Anyone who practices yoga knows that keeping an open mind and pushing judgment to the curb is a surefire way to get the most out of a practice. Be ready to experience differences—as varied as holding poses to differing yoga philosophies. You came to Wanderlust to experience something beyond your home studio, so take off your blinders and learn from others with different backgrounds.
But Be Comfortable With Your Limits
You should always respect differences, but that doesn't mean that you have to love them. Be willing to give things a chance, but know that it's okay to back off if you're not comfortable with a class, or if things just aren't jiving with you.
Get Organized
Once you've set a schedule that achieves the balance you're aiming for, it's time to get signed up. Use the online Wanderlust scheduler to register for your desired sessions—be warned, some of them fill up quickly! If you don't register in time, there's always the waiting list.